Scottish Ballet's New Workshops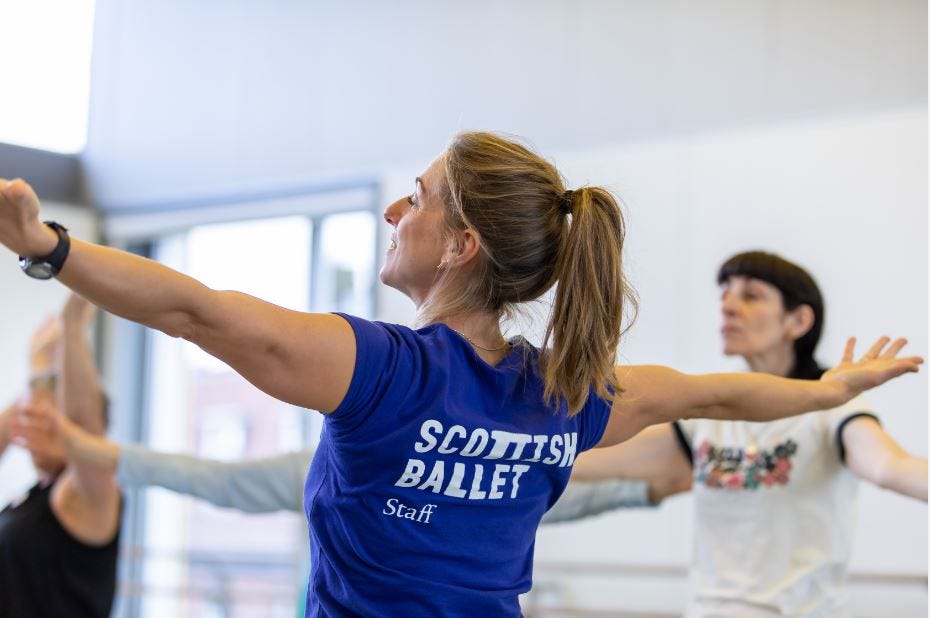 Scottish Ballet has launched a new programme of six online workshops for health and social care staff to help build personal resilience and enhance their wellbeing. Working in partnership with NHS Scotland and the Scottish Government, these preventative sessions aim to empower participants to self-care and manage stress.
After successfully delivering live digital Health at Hand™ sessions to energise staff and alleviate the pressures that frontline workers face in one health board, Scottish Ballet opened NHS Scotland's Focus on Wellbeing programme, with more than 1,100 people signed up to participate in the opening Restore workshops.
These new sessions come under Scottish Ballet's Health at Hand™ programme that was launched in 2020 in response to the COVID-19 pandemic. Addressing the physical and mental stress for those working in the NHS and social care services, Scottish Ballet created a series of movement and breath videos. The programme comprises 10 minute videos titled Energise, Rejuvenate, Relaxation (for the start, middle and end of shifts, respectively) and a longer 20 minute Restore session for staff experiencing trauma and stressful situations at work.
Following its success, Health at Hand™ won the 2020 Achates Philanthropy Prize for Scotland, and resources from the programme are now available to use for free on the Scottish Ballet website.
The scheme will help the Scottish Government build a sustainable culture that will continue to prioritise staff wellbeing in the future, with its commitment to improving the health and wellbeing of health and social care staff, taking action to provide support while they respond to the pandemic. Scottish Ballet's Restore sessions programme will offer a creative outlet to help alleviate stress and are a great way for people to learn how dance techniques can enhance personal wellbeing.